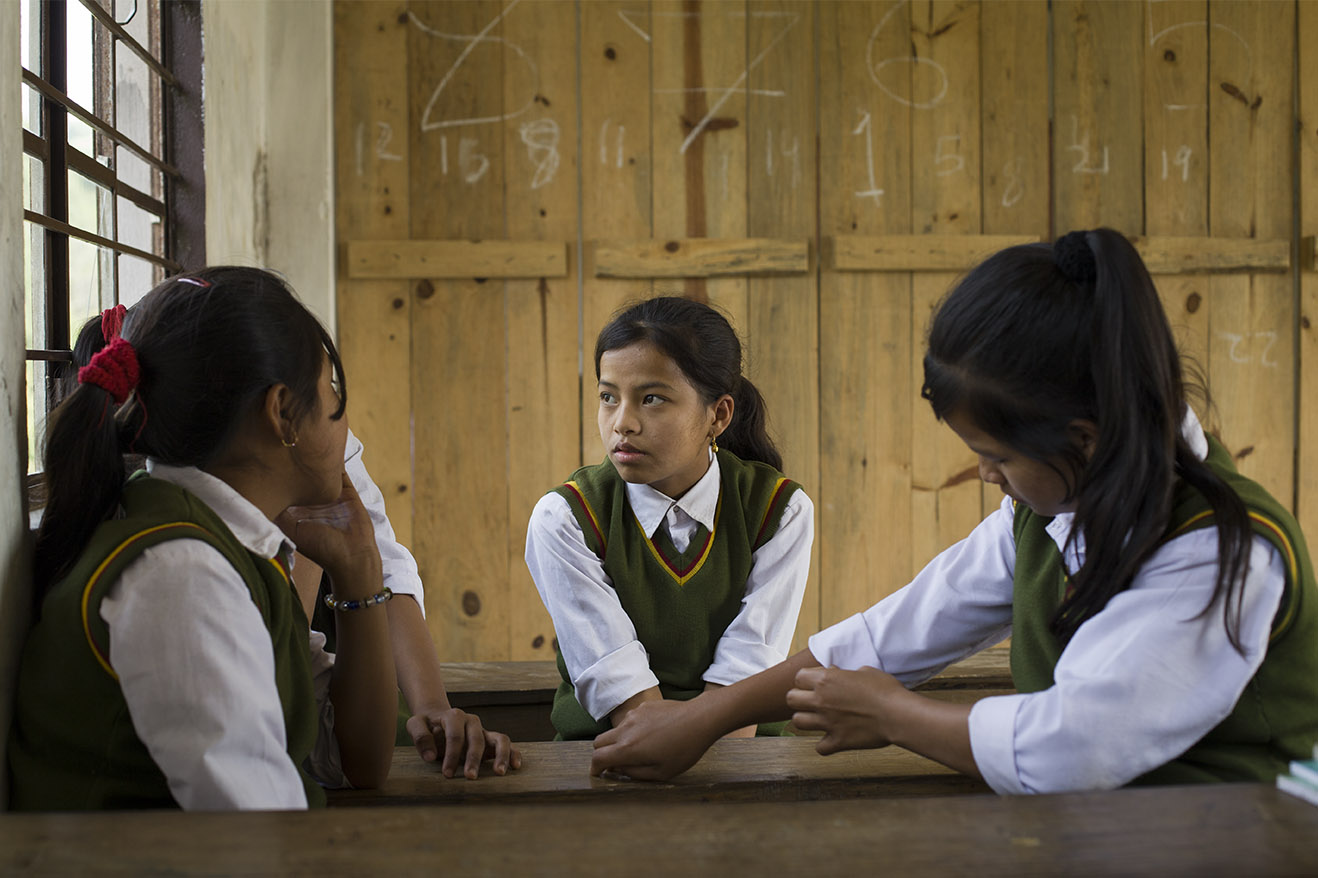 View of Mawlynnong, one of the villages in Meghalaya, in Norteastern India, where the Khasi people live. Following a matrilineal society, in these communities women are more respected, valued and have a higher social status than in the rest of the country.
A group of people builds a pond that will be used as a fish farm in Nongeitiang, a Khasi village adjacent to Mawlynnong. Earning 160 rupees (2€) per day, men dig the ground and women carry it with baskets on their backs and heads.
Women wash clothes in a river near Mawlynnong. In Khasi communities, women are the head of the family, have jobs and have a visible position in the public spaces, but housework are still their responsibility.
Aitimon Khongthah (left) married 33 years ago and her husband Badollin came to live in his in-law´s house. They have four sons and two daughters.
Richila (right), 18, is Aitimon´s youngest daughter and according to Khasi tradition, she should be the one among the siblings who will inherit the family´s property.
Jerimai Khawrramba (center) and Blumin Khawrramba (left) work together while their daughter Senlalate, 3, eats rice. Both they husband and the daughter too Jerimai´s surname as, according to Khasi tradition, the line of descent is given my the mothers.
Senlalate sleeps while her parents are working in the fields. Being the only daughter is not an issue in Khasi communities, comparing with the rest of the country where baby boys are preferred rather than baby girls. "Having sons or daughters does not matter to us. We cannot chose. It is God who does", Blumin, Senlalate´s father says.
Most of the people in the area earn a live by collecting these plants that will be used as brooms after being dried. They can earn up to 100 rupees (1,30€) per kilo by selling them.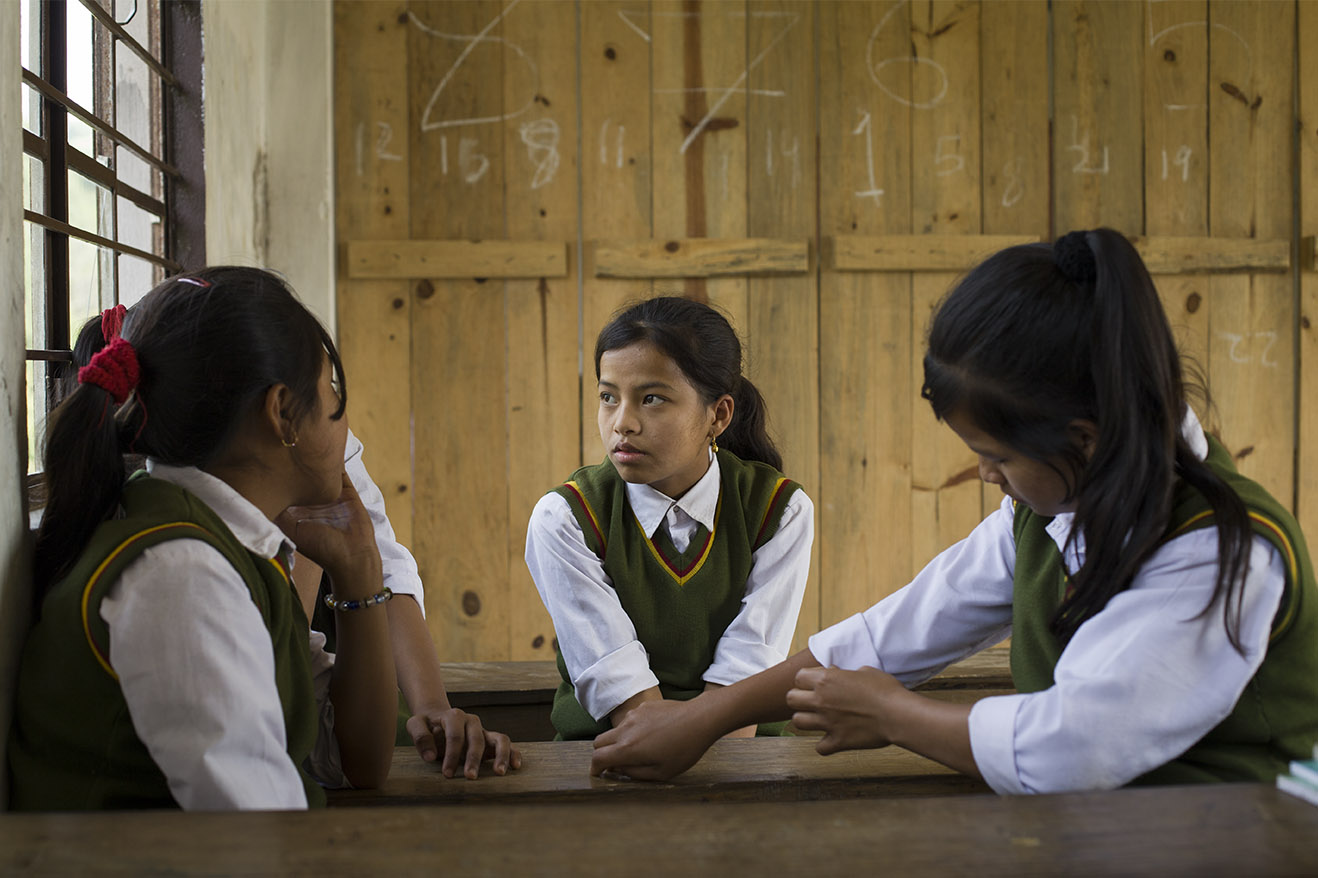 Mebadynbha, 12, and her colleagues, during a break in the local school in Nongeitiang.
Schoolgirls playing cricket in Nongeitiang´s streets.
Aitisuk Khongjee (left), 37, and he daughter Baridashisha (right), 11, the forth among seven siblings. "My youngest daughter will inherit our properties, although I will give something also to the rest of my daughters", Aitisuk says.
Dateiskhamlang, 7 months old, is the youngest of seven siblings. His mother, Aitisuk, holds him on their house in Nongeitiang: "My sons will not inherit anything, but it is the duty of my daughters to take care of their brothers if something happen to them".
Thilmeda Khongji, 45, holds her grandson in her home in Nongeitiang. Two years ago, her husband left the house and he now lives with some other woman. "but he comes here everyday, take care of us and help economically", Sarty, 22, daughter of the couples says. In Khasi communities, divorce does not means stigma or dishonor for women, as commonly happens in the rest of India. On the background, Sunity, 20, is the youngest daughter. She married one year ago, is pregnant and her husband lives in the house.
Ibasu (4) lives with her grandmother, aunties, uncles and cousins. Two years ago, her father burned alive her mother in the same house where she lives now. He was in jail for few months but was released and currently lives in Riwai, 3km far from Nongeitiang. Despite women from Khasi communities are more respected than women in the rest of the country, still there are cases of domestic violence.
A group of girl children in a school in Nongeitiang, where more than 30 students aged between three and six attend daily.
Iadakmenlang, 5, Aitisuk Khongjee´s youngest daughter, learn how to add with the help of her bracelets in Nongeitiang´s school.
Rimeiaki, 15 months old, is the only daughter among four siblings so she will be the one who inherit the family property.
A group of women come back home after working in the construction of the fish farm in Nongeitiang.